Frequently Asked Questions
A prospective model from Montreal, Canada recently said:
I wanted to say the site is very well explained! all the fearness went away after I checked the FAQ.
Perhaps our FAQ will be helpful for you, too? 
"For anybody who is considering working with AW, my big piece of advice is to read the model guides on this website! You have so much information on here about everything that goes into the shoot.

What made me so well prepared for the shoot was that I read through every single page and understood everything on it and it really helped to prepare me.

I know you're like: "Does anyone even read those?" but I read every single one. So, thank you guys for putting all that info out there!" (Nicole T, Jul 2021)
We sure did! From 2009 till October 2022, femalephotofun was our model recruitment site.
In October 2022 we relocated from femalephotofun.com to modelfor.abbywinters.com. Same people, same company, same information – just at a different web address.
Why the change?
We made this change for two reasons.
First, the word "female" has been co-opted by the disgusting hate-based "incel" movement (more info). Of course, the word "female" has a neutral meaning too, but we want nothing to do with "incels", and we don't want prospective models assuming we support their ideas or are associated with them because of the name of our site.
Second, some of our existing models described how they were confused that abbywinters.com (the company) used a website with a different name (femalephotofun.com) when recruiting models.
It's time to clear that up – part of our commitment to communicate with prospective models so they can make an informed decision.
🤨 Things you probably want to know straight up
"I showed up wearing my usual, natural-looking makeup and I found out that you guys don't do make-up!! … A lot of companies do natural, girl-next-door stuff but you guys are actually, legitimately natural." (Lucy Q, Apr 2022)
Things you might be uncomfortable to ask, but really want to know
"I felt very prepared, honestly. I've never actually done a modeling job before and I was nervous that I was going to mess up. It is hard to mess up when there are clear instructions and clear poses!" (Oshun, May 2022)
🤔 Other things you might be curious about
No, and in fact, we don't allow anyone on-set other than models appearing in the shoot today and a Shoot Producer.
Why is no one else allowed on set?
We've got nothing to hide here, so let us share the reasons for this policy:
We're a business with time constraints and lots to get done on a shoot day
Our Shoot Producers need to wholly focus on the task at hand
We need you to completely focus on the work you're being paid for
Non-workers are not covered by various insurances
Having a non-worker present may make other models on set uncomfortable (though on your first shoot, you will be the only model)
If we're making a shoot in someone else's home, having non-working people in their home is not part of the agreement we have with them
Non-workers on set, no matter how well-meaning, can interfere with a smooth and safe shoot day.
Exceptions
There are some special exceptions to our no-one-else-on-set rule;
On some shoots with two or more models, we have a Second Camera Operator for video

We'll always let you know about that well before the shoot day;

Very occasionally, we may have a Shoot Producer Trainer on set

You'd be asked beforehand if you're ok with that and it's never a problem to say no;

If you are genuinely disabled and require a support person to do the job, we allow that support person

For example, if you're deaf and rely on a signing language to communicate
If you require someone for "emotional support", we're not able to faciliate that, sorry. Nude modelling is probably not for you. 
How can I feel more comfortable with this policy?
We understand and appreciate that this is the first time you're going to be alone with our Shoot Producer who you do not know, and you may feel uncomfortable with that. So here's what we do offer:
Once your Shoot Producer is assigned to you, we'll link you to a page with more info about them, including comments from other models who have worked with them
You can video call / voice call / email / SMS with the Shoot Producer before the shoot day. Your partner or friend is welcome to attend these calls.
You'll have the contact info for your Shoot Producer, and for real people in our company that have worked here for years
Your partner can drop you off at the shoot location, meet the Shoot Producer at the door

But they are not welcome to enter the shooting space for insurance and liability reasons

We commit that you'll not leave the location, or be asked to go to a different location, without having an option to notify your partner

For example, your Shoot Producer might suggest visiting the store to buy some lunch together; or, maybe it's a nice day outside, and Shoot Producer wants to get some footage of you walking in a park to complement the inside component of the shoot

You can have you phone on (on silent, please!), so people you trust can track your phone
You can call or message trusted people to let them know you're ok at any time during the shoot

However, it's not appropriate to have ongoing text conversations with people during the shoot – we've got work to do!

You can call or message someone if the shoot is running late
If there's something else you'd like us to do to assure your safety and comfort, let us know and we can work something out (and probably add it to the list above).
You should know that each Shoot Producer has completed a background check, is required to comply with our Principles of Working with Models, and we have a copy of their their ID on file. We do a post-shoot check-in call with every model the first time she works with us so we can get feedback on how the Shoot Producer worked with them.
Also see related FAQs:
How do I know you're legit?
How do I know I'll feel safe on a shoot?
When we get a model applying to work with us, we have a few goals:
Treat the model with respect and care
Help the model make an informed decision (learn about us, and have their questions answered concisely)
Allow us to make an informed decision (to decide if this model is right for us)
Meet basic KYC (Know Your Client) administrative requirements
To prepare for the shoot booking process (that is, gather data needed to begin shoot booking)
[Asked about the application process] "It was so well organized and professional that even for someone who does not know English or computers or technology this would be easy to do. There is no hard part!" (Alice S, Sep 2021).
During the process, if we find a model that is not suitable for working with us, we'll let them know as soon as possible so their time is not wasted. At any stage of the process, models can choose to cancel their application. We ask that they notify us of this, so we can be sure not to bother them in the future. So with that in mind, when you Apply you can expect the onboarding process to take around 60 minutes, spread over about a week (less if you respond promptly! 😍).
"The fact that I was recommended to not work with you guys… I was a little hesitant at first because the application process did seem a bit unending…I am really glad I stuck with it! I had a fantastic experience doing the shoot itself. It went smoothly, I got paid smoothly. I have no complaints at all!" (Nicole T, Jul 2021).
The process looks like this: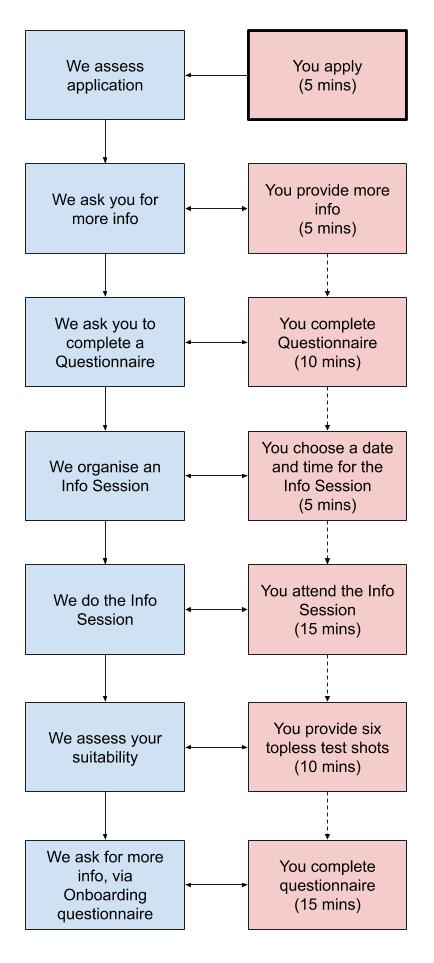 ABOVE: Our New Model Enquiry process for models. On the left in blue is stuff we do, on the right in pink is what you do. In more detail:
We make an initial assessment of your application – do you basically seem to be right for us? (female, over 18, etc)

We ask you for some more information that you did not supply originally (for example, contextual images of your tattoos)

We ask you come to complete a Basic Info questionnaire

We provide some info around "Posing Levels", payment, show you the Release contract you'd need to sign
We ask you questions about yourself (for example, about your pubic hair, flexibility, etc)
This info is securely stored in our Models Database

The Info Session call

We organise a 20-minute phone call (at our expense), where we answer your questions and ask a few more questions; we take notes.

You take some selfie topless test shots, that meet our requirements
We assess your suitability for our site and let you know our decision
We ask you to fill in our Onboarding Questionnaire,

We gather more info like how we pay you, your address, lunch preferences, and similar info to begin preparing for your first shoot
That's the end of our model onboarding process. Next up is organising your first shoot (this link goes to our site for existing models).
" You answered my emails so quickly and everything was transparent" (Lisette, Aug 2021).
"I didn't have many worries or concerns. I was very impressed with your onboarding process. I would have been surprised if something went wrong or not as expected. This is a company that would do everything professionally.

The onboarding process was long and extensive, but it felt necessary. I think it is good for vetting some girls. I felt good about it and once I was on the plane I had no concerns about anything" (Alexandra T, Aug 2021).
A Model Liaison is a member of our organisation who works with models. For example;
The New Applications Model Liaison works with models who apply from here and helps them get "onboarded"
The Booking Model Liaison works with models to book their shoots
The Girl-Boy Model Liaison works with models to prepare them for making a girl-boy shoot with their real-life partner (more info)
"The girl who prepared my flight was really good. Leena [Model Liaison] really listened to all of my preferences and my wishes and she did as I asked" (Junie, Aug 2021).
We have a bunch of other Model Liaisons in the department, and several Model Liaisons have been models themselves – so they get where you are coming from (they're also all female, btw). Most Model Liaisons are "cross-trained", meaning they can perform several tasks in our business (or at the least, are familiar with each other's roles) 💯.
"It is literally the most unique shoot I've ever booked. It is very personable and you share your personality…But it is also the most professional shoot I've ever worked on. You have Model Liaisons checking on you constantly…I wish more companies operated like this!" (Melody Y, Nov 2021).
All our Model Liaisons are experienced and professional and there to help at any time (we have 24-7 coverage for urgent issues; EU Business hours for non-urgent stuff). We're happy to talk on the phone, do a video call, WhatsApp, or just email about any concerns you have, so don't hesitate to reach out (well, check the FAQs first! 😅).
"The phone calls helped me leading up to the shoot helped me feel like I knew what was going on" (Jacklyn, Nov 2021).
During the Application process, after the Info Session phone call with us, we ask you to send a series of six images of yourself. 🤳 Some are topless 🌰🌰.
It's not possible to submit images from other shoots – they need to be shot specifically for this (you'll hold a sign with today's date).
You can choose not to provide test shots, but we won't be able to decide if we can offer you work.
When the time comes for you to send these images, we'll provide more details on exactly what we need, and some tips for how to make them (with a friend, or alone – with your smartphone is fine). But if you're really curious, you can see the spec.
A Shoot Producer is an expert photographer & videographer, who's completed extensive training with us to make shoots that meet our customers' needs.
"She [Shoot Producer Giulia] brought a lot of energy with her, and she made a lot of jokes and she is always smiling. She takes a lot of small breaks to check that everything is okay…I felt like I was there with a friend that I already know. I didn't expect it to be that nice!

She is a professional because she knows how to manage the situation. I think she could tell that I was less energetic at the end than I was at the beginning and she helped me get more energy at the end of the day." (Alice S, Sep 2021)
"It felt natural and friendly and respectful. I felt that he [Shoot Producer Brad] knew what he was doing based on his behavior. He was knowledgeable, trustworthy, and had things under-control." (Lisette, Aug 2021)
Shoot Producers have their own camera and lighting equipment and locations to make shoots in. For Solo model shoots (usually the first shoot any model does with us), Shoot Producers work alone with the model.
We have Shoot Producers in many cities around the world (you can see the full list on the Apply page), with a few more being added each year. After a model has decided to work with us, we'll introduce her to her geographically closest Shoot Producer.
Shoot Producers are contractors for us – when they make a shoot, they invoice us for the work they have done. We pay models directly for their work (by electronic funds transfer, the day after the shoot).
"We talked a lot about the shoot but I didn't know, obviously, but Hermann was really helpful and understanding and he explained everything to me really well and told me how to do the posing and he was really helpful and made me feel good." (Sena, Sep 2021)
You can see how we recruit new Shoot Producers, and how we train Shoot Producers.
On our site for our existing models, models.abbywinters.com, we have a super-detailed description of each aspect of a typical shoot day (every day is a little different of course, but this is what all of them have in common).
Here are some things models have said after their first shoot with us.
"It was smooth. It was easier than I thought in a lot of ways. It was very entertaining" (Lisette, Aug 2021).
"I was nervous about the fact it said this would take 9 hours – keeping my energy up for that amount of time I thought would be really hard but Guilia [Shoot Producer] was so motivated and her energy was there the whole way through that I never felt like 'oh know now we have this thing to do', day flew by – felt much quicker than I thought it would be".

[Asked how the shoot day differed from what she expected] "A lot quicker, I was expecting it to be 9 hours of feeling a little uncomfortable as I held difficult poses for a really long time but it was nothing like this – a lot easier!" (Zina B, Nov 2018).
"Working with Brad [Shoot Producer] was just like being himself, he makes you feel really comfortable and is not bossy or in your face, saying you are doing things wrong, he gives you space" (Jayla, Oct 2018).
"Great, the shoot went really well. It went faster than we thought, Ursula [Shoot Producer] gave me a heads up that it would be a long shoot day so I was expecting it to be 8 hours or so but I think we did it in 5. Also, it was so much fun that the time really flew by for me, I didn't notice how long it was at all!"

[Asked if she felt she could suggest ideas during the shoot] "Oh yes! So we worked together and were sharing ideas all the way through, I think this might be why the day went faster and was more interesting. We started doing yoga and Ursula also does yoga like me so we were both thinking of ways to improve the poses and what we would be doing next. Two heads are better than one" (Zhen, Sep 2018).
[Asked about her Shoot Producer, Elvaar] "He just made me feel very comfortable and helped me with his direction so I knew what to do" (Tilly B, Sep 2018).
"My Shoot Producer was Hermann, He is a guy so I was a little sceptical but he was really professional. Was more relaxed than I expected. hehehe He had to keep telling me to close my legs! Maybe next time we need to do the higher levels ;) He is very very respectful and takes his job seriously. You don't feel he is looking at you in a weird way at any time, and this is really really important, especially for beginners"

"The location of the shoot was beautiful! A great apartment on AirBNB that was not too far from where I was staying. I asked to use bedroom but he explained to me we could do more on the couch and he was right. It was a lovely space" (Fernanda, Aug 2018).
[Asked how the shoot day differed from what she expected] "My biggest surprise was how collaborative it was, I didn't expect to be coming up with ideas but that was the fun part! I got really eager on how we do show the next thing. It was great my personality was taken into account so much" (Elin, Aug 2018).
We often make several shoots with each model (the average is five shoots, but some have done 20, and others only one). Of course, there's no obligation to appear in more than one shoot, but most models have a great time on their first shoot and are keen for more. 😁
"I really want to do all of the shoots. I want to work for you as long as possible. I want to be needed as long as possible. I want to try different types of shoots!" (Elza, Jan 2021)
Usually, we'd organise your first shoot, then wait a few weeks for you to think about how it was for you, and for us to check how it looks. Then, we may be back in contact to offer you some other types of shoots – we have a bunch of them. Each has a different rate of pay and expectations, and some have "prerequisites" (that is, we need you to appear on Shoot type B, before you can appear in Shoot type C).
The typical route is as follows:
Solo: Your first shoot is of you, alone. We sometimes ask you to do more Solo shoots (typically up to three, spread over 12 months).
Masturbating with another model: Just you guys in a room masturbating (the Shoot Producer sets it up, then leaves you to it). Can be a bit weird, but in a good way! Shot for video only.
Sexy playing with another model: We sometimes make "Guest Direction" shoots, where an experienced model (the Guest Director) is paired with a less-experienced model (you), and gives sexualised "challenges" to her (for example, I wonder if we can make all our nipples touch, without using our hands?). There's no body-fluid interaction in these shoots (no kissing or oral sex). Shot for video only. We limit these shoots to one per model.
Girl-girl sex shoot: Full sex with another female model, oral sex, fingers inside, the whole deal. Models can appear in several of these shoots.
Girl-Boy shoot: You and your real-life male partner have sex, and we film it (and separately take pictures). Models can appear in one of these (per boyfriend 😉).
For each of these shoots, we offer them to models who do a good job, are easy to work with, communicate well, are enthusiastic about making great shoots, and meet our "paradigm" requirements. And of course, only if you want to do more shoots – there's no obligation.
Where possible, we'll book you in to do several shoot types in the same week (this is especially the case if you're traveling to a Shoot Producer).
On our site for existing models, we have a FAQ, How can I do more shoots in the future? This describes in more detail the considerations we make before offering models more shoots.
We get a lot of models applying for work at modelfor.abbywinters.com, and we're not able to offer work to everyone. We only shoot models who fit our "paradigm" requirements so to increase your chance of being chosen, follow these tips:
Be healthy and happy!
Be height-weight proportionate
Be well-groomed – no bruises, scratches, or bites (scars are fine)
Be on time and behave professionally
Remove all face and body piercings for the shoot
Remove all makeup for the shoot
Have lots of pubic hair – we place a high priority on shooting models who have full, natural pubic hair.
That's not to say that candidates who don't match this perfectly are automatically rejected – we're always flexible.
"Probably the hardest part was just applying because it was the first shoot I had done in three or four years. The pressure I had in my own mind when I first applied… The grooming photos… When I first applied I wasn't sure if I would get selected, so I was making sure I got the angle right and making my boyfriend take the pictures again just to make sure I got it exactly right…After that, the clothing was easy to find, the apartment was easy to find, scheduling was fine. The shoot was great. Even Leena [Model Liaison] was messaging me on the day of the shoot and everyone was really attentive." (Sascha, Feb 2020)
This is not employment
First we should be clear, this is not an employment situation (that is, you're not required to work on certain days, for certain hours, and there are no benefits normally associated with employment, such as medical insurance, holidays, illness leave, or similar).
We do have employees, several of whom have been models (in fact, our most senior employee was once a model with us!), but they work organising shoots and in other areas of the business, not as models now. More info on our non-model employment opportunities.
Working with us as a model is a Contractor relationship. Once we decide that we'd like to work together, we'll let you know we have a shoot we'd like you to appear in (and, you can let us know when you'd like to do a shoot). Then, we work together to make that shoot happen, and we pay you for appearing in that shoot.
Ongoing shoot work
For most models we work with, we'll organise between five and 15 shoots over the following few years (but just once, or more than that is also possible). So, it's ongoing work in that sense.
But, there's no contractual requirement for us to offer you shoots, or to shoot you when you ask for it: we both have to agree it's something we want. You're free to make shoots with other companies, as well.
🤓 Stuff we think you should know about
Our customers come to us to see our models more "natural" than elsewhere, and part of that is models wearing no makeup on our shoots. That means, no concealer, no foundation, no powder, no tinted moisturizer, no lipstick, no blusher or rouge, no eyeliner or eye shadow. Here's some typical feedback from a satisfied customer;
I needed to congratulate you once more on your work! What you do is so much better than the majority of other sites, yours is artistic and showcases beauty in an organic way (no makeup or other artificial additives). Thank you!!! You take the time to let us learn about the girl, relish her eyes, ears, hair, toes, and more! Thank you for providing a platform on which we can access and relish these gifts of nature.
"I was a little bit worried about what I would look like without makeup… I felt surprisingly comfortable!" (Celestina, Jul 2021)
We have one exception to our no-makeup rule: a moderate amount of mascara is permitted.
"In the beginning, I was just worried about the no-makeup part… Doing makeup is my profession, I am used to putting on at least some makeup for photos. But, it is my face after all and it must not be that bad. It turned out okay. I was allowed to wear mascara and I looked okay with that and not the rest. I realized it would be a nice shoot so, let's do it 😉! I think the light and camera settings made me look better than in real life." (Anna X, Apr 2022)
All the images on these pages were made of models without makeup. They, us, and our customers think they look pretty great! (we hope you do, too!) Our Shoot Producers are experts in making our models look good.
Some models feel liberated by this approach and embrace it. For other people, they're not so comfortable – that's ok. The work we offer is not for everyone, and there are plenty of sites that are happy to shoot with all the "war paint" you can manage to get on your face! 🚚 :)
"I was so worried about shooting without makeup…. But it was fine. That was my biggest concern and I'm very happy that that was fine." (Melody Y, Nov 2021)
"One of the biggest changes it had on my life is that I actually wear a lot less make-up now, because I like the way I look in the shoot!" (Lotte L, Jul 2019)
Here are some face closeups from some shoots we have made. No makeup (except, some models are wearing a little mascara). Click an image to see the full-size version.
No, a "Shoot" for us comprises of both mediums, stills, and video (on a shoot day, we'd normally shoot the stills first, have a lunch break, then shoot the video).
It's likely the video shoot is not as bad as you're imagining! We work with you and can direct you a lot if you prefer, or just provide some broad guidelines if you want to freestyle it. Or some balance between the two. We'll ask you questions, and direct you to do activities – you're never just told to "perform now!".
"I thought that it was going to be more hard to shoot, especially video but it was easier because I have never shooted video before, I was doing some photos before but I never did a video, so I guess that my feelings about the video was that I was thinking it's going to be more difficult as I think but it was pretty easy though it still took more time for video than pictures" (Anca, Mar 2019).
Also, you have a fair amount of input into the video (after all, it's of you, and wholly about you), but there's also some things we need to capture you doing (but only things you're comfortable doing, and you can always choose not to do a certain thing).
"The only thing that was a little bit of a surprise was that while I knew I was going to be interviewed, I didn't know what questions were going to be asked. Which I imagine is on purpose because you need to be authentic… I was just thinking off the top of my head but I felt good about it" (Cara, Aug 2021).
We have a page with model details for our existing models that you might find reassuring, How do the solo videos work? 📹 How do I know what say and do?
But overall, if you're not comfortable appearing in the video under any circumstances, we're not able to work with you, sorry.
The internet is forever, so this is a big decision!
While you'll be one of many people naked on the internet… you'll still be naked on the internet. We do have some slow, expensive, long term options for content removal (we promise, you won't like them), but we strongly recommend only doing this if it's something you know you want to be permanent.
While we've been running for 23 years now – and we plan to keep running for at least that long in the future – things can change. If we find we cannot run a profitable business any more, we'd probably sell all the content we made. We'd have a requirement that the buyer must treat your material in the same way we do, and the owners will work hard to enforce that.
See also:
Our customers want to see (all of) the real you; wigs and masks can hide that.
"The idea of the shoot was to paint! The Paint is important to my life. I want the others to see my paint and my relationship with the paint. I think my whole body needed to touch the paint. The other idea was my bike. Also, my bike because it was important to me! It was my life. It was the two things most important to my life. Painting 🎨 and bikes🚲!" (Rita L, Feb 2022)

Perhaps you're considering this as a way to hide your identity (because you're concerned about being busted)? Of course, that's a valid concern! Its rare models are "found out", but it is possible. We prefer to work with models who are proud of their work with us, but know that's one of those "easier said than done" things.
First, check out our FAQ answers below for our position on that;
Wearing a mask in a shoot
We never allow masks in our shoots. If wearing a mask is a requirement of yours, we can't work together, sorry.
Wearing a wig in a shoot
Wearing a wig in a shoot may be possible. Ultimately, our customers pay us to make shoots of models who look "naturalistic" – a slippery thing to define! We need to see clear images of you with, and without your wig, so we can make a decision (your wishes will always be taken into account, but it may be that we will only offer work to you if you don't wear a wig).
We encourage you to be honest with us about your wig-wearing. Not telling us, and arriving on-set for a shoot wearing a wig would likely result in the shoot being canceled on the spot. That's going to be super annoying for everyone.
We keep our models' information extremely confidential and don't make personal information available to anyone other than those who work with you (Shoot Producers, Model Liaisons). Real names are never used on the website.
We have a Privacy Policy we absolutely stick to. Have a read – it's not even boring. 🤓
After you apply, we'll organise an Info Session, a 15-minute phone call to discuss your application, and give you a chance to ask us questions. Our goal is for you to have no unanswered questions after the Info Session – we want you to feel you've made an informed decision to work with us (we do not ask you to actually make that decision in the Info Session). More info on what happens in an Info Session.
"I felt very well-prepared because of all the emails that we shared and all of the calls." (Anabelle, Feb 2020)
So, it's great if you have a bunch of questions prepared, we'll answer each one concisely. If you're stuck on what to ask, here are some ideas:
How do I know I can trust you guys?
Is there anything I should know about the Release / Contract?
How long will it take for my money to get to me?
What's it really like on a shoot?
This all sounds a bit too good to be true…?
How long have you been involved with the company?
How did you start with the company?
How do you like working there?
What don't you like about working there?
What were you concerned about when you were a model?
What else do you do at the company?
(Many other questions you may have are answered here in the FAQ, so we encourage you to read it… but it's def fine to ask for clarification in the Info Session as well).
When you do modelling work for a company, you'll be asked to sign a "Release", a contract where you officially give permission to the company to use the images they make of you, in exchange for payment.
You can see our Release as a PDF – it's a short 4-page legal contract, but it's written in plain English (as much as our lawyers let us).
Like any contractual agreement, there can be good and bad things for you, so it's always best to read it – we know, they are sooo boring 🥱 – or get someone you trust to read it for you. The best is to pay a lawyer to, but that can cost around US$200 for a one-hour consultation, but a trusted friend would be fine as well. But, we encourage you to empower yourself and read our Release on your own first. You're welcome to ask us questions about it in your Info Session.
"The contract signing was really different….It was really quick and easy. Not a lot of big stacks of paperwork to do! It was a lot less serious" (Sena, Sep 2021).
In a nutshell, when you sign our Release on a shoot day, it gives us permission to use the media we captured of you on our website, and to promote our website with that media. In exchange, we pay you. 💰
Our Release is non-exclusive, which means, you can work with us, and continue to do similar work for other companies, post images of yourself online, or really do whatever you want in that regard.
It's best to allow a full 9 hours for a shoot (from when you meet with the Shoot Producer until you leave), just to be safe, but it's unlikely to take the full 9 hours.
If you have to be somewhere at a certain time on the shoot day, please let the Shoot Producer know when you discuss the date and start time with them.
We want you to look your best, and that might not happen if we have to rush. We can always re-schedule you for a more suitable day.
"Actually, it was way shorter than I was used to! Well, it was a little below average… But it didn't feel as long. It is less work, more natural, easier to get through it more quickly. I have some experience working with other companies and I knew some poses to do so it went really quickly, actually. The shoot actually went by faster than we expected. We finished about an hour early. It was 10 am when we actually started shooting. We probably shot until 6 pm or 6:30 pm. It wasn't bad at all!" (Myra, Jan 2021)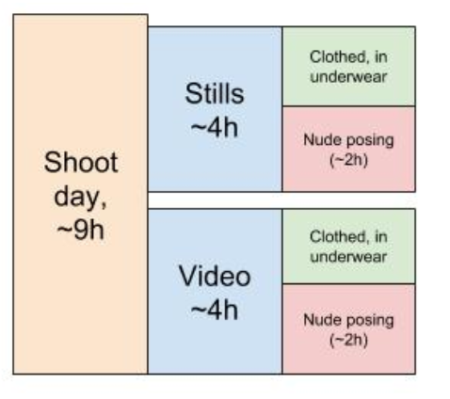 "We made it a bit longer because we had a lot of ideas and we wanted the best shots possible. We wanted to make sure it was actually cool and a good first shoot and a good first impression for me. We agreed that that's important" (Dalilah, Nov 2021).
Primarily, the material we capture of you will be on our members-only website abbywinters.com (warning, there's some pretty explicit stuff there, but you choose how revealing you choose to be on a shoot).
While the full shoot media is only available to paying customers, we make a short 30 second video and 20 small images available to prospective customers, to get them interested (an example). These pages are accessible by anyone online.
We make ~30 images available to marketers who make pages (Example 1; Example 2, Example 3), in an effort to help us find new customers (if someone buys from us due to their marketing, they get a cut of the sale). We do not make videos available to these marketers. These pages are accessible by anyone online.
We may choose to use an image or two on our Twitter account, posting in our subreddit, or on our Instagram (we do not use those social networks much, however). These pages are accessible by anyone online.
Some images may appear in our training materials for Shoot Producers, or on sites we use to educate models, such as this, Model for Abbywinters (for prospective models), and models.abbywinters.com (for existing models). These pages are accessible by anyone online.
Piracy
Unfortunately, piracy (people stealing media, and making it available elsewhere) is a fact of life online and affects all content creators – videos, images, writing, TV and movies, comics, books, games… any sort of media.
There are no completely effective ways to stop piracy. We employ two companies to find pirated content, and issue "take down notices", where the company responsible for hosting that media must remove the material. Most countries in the world have laws ensuring offenders comply, some countries do not (notably, Russia), so some material is impossible to get removed.
Once material is removed, the same (or, other) material may be re-posted, and the cycle repeats. We're successful in getting tens of thousands of links to pirated abbywinters.com content removed each month.
If a model finds pirated material online, we encourage them to contact us and we'll prioritise getting it removed, if possible.
The Info Session is a 15-minute phone call with someone who has been a model with us before and now works with us to help new models learn about us.
We schedule the call at a time that suits you – we have a few people who deliver Info Sessions located around the world, so we ask you to set your timezone so you can see who's available. We'll send a few SMS's in the days leading up to the call, to make sure we're both still ready for it.
"I was really comfortable. Izzy [Model Liaison] was very kind and sweet. I remember that I had some doubts about English, I'm a Spanish speaker, but it wasn't an issue at all. I totally understood her. I remember also I felt the conversation was very open, talking about being photographed nude and its implications, I think I've never talked about this with anyone so it felt nice and free of judgment." (Valeria, Sep 2017)

[Fun fact… Valeria gave us that feedback in 2017, and a few years later we invited her to come work for us delivering Info Sessions herself! You might speak with her in your Info Session.]
The call is pretty informal. We'll ask you a few questions about yourself – why you want to model, what you understand the risks to be. You can ask questions (more info) and we'll answer them as directly and concisely as possible. We encourage you to ask subjective open-ended questions (for example, "Why should I not do this?").
The Info Session call is not a "sales call" where you're pressured to make a decision, and there are no penalties for wanting to take time to think about it. Our only goal of the Info Session is for you to feel informed about working with us.
However, at the end of the call, we do ask if you're generally interested in proceeding (so we know if we should move to the next phase of the process). It's totally fine to say you want to think about – or to say it's not for you.
If you do want to proceed, we'll ask when you expect to be able to complete the next step.
We require our models to speak English well – for example, able to hold a conversation in English for 15 minutes.
If English is your first language, there'll be no problem.
Your English does not need to be university-exam-level perfect, but you should be able to hold a comfortable conversation for 15 minutes.
"

I was worried about speaking English but it was no problem. Sometimes I don't feel confident about my language skills… This was unusual for me to be speaking. It was easy and I had to be myself! I didn't have to be perfect.

 

After doing the shoot, I have no more issues with my English." (

Jessy

, Nov 2022)
We require models to speak English for several reasons:
The main reason: Our customers are English-speaking, and pay us to watch videos of models speaking English.
The information we provide to you to prepare for the shoot is all in English
English is the only language our Shoot Producers all speak (though, they may also speak other languages)
All our paperwork is in English, which you need to understand before signing
In the Info Session, we'll assess your English level, and let you know if there is a problem. If English is a second language for you, and we find you do not understand our questions or you're not able to express your answers clearly, we may need to end the Info Session early. In this situation, we will not be able to work with you.
If your spoken English improves, we encourage you to re-apply in the future.
🙃 Other stuff we get asked sometimes
We sometimes make shoots of our female models having sex with her real-life boyfriend 🍆🍑 (but we never make shoots of female models with some "stud" dude). It's our preference that female models appears in a solo shoot first, but that's not a requirement.
We have a bunch of info for real-life male-female couples applying over on our Fuck Like You're Being Filmed 😇 site, so check that out to apply together.
Because most of our shoots are with solo female models, our application and screening process is geared towards that, so there may be some questions that are not relevant to you applying for a girl-boy shoot. It's fine to just answer whatever to those questions, if you're only interested in doing a shoot together.
Kitten is the name of our new models portal, a place for Candidates and Models to log in and interact with us. Share information of theirs, and get information they need for shoots.
Kitten is not yet live – we expect to release it in late 2021 – but it's being built, and you might see some references to it as we prepare to make it part of how our business works.
Hm, how secure will this be?
Security is the main reason we're making Kitten. We're extremely security conscious, following best-practises. It'll be more secure than most banks.
But, there's always a compromise between security and usability (the more secure you make a thing, the more annoying it is to access it). So, we're finding a balance.
Why have Kitten instead of emails?
Almost all the communication we'll have with you is via emails (though SMS, WhatsApp, and calls are options we'll use sometimes as well, if it's ok with you). There's a few reasons Kitten is an improvement over emails.
Security. The number one reason. We're based in the Netherlands, part of the European Union, which has very strict data privacy laws. Having stuff online, but in a password secured place is safer for everyone than clear-text emails.
We can lay out info so it's easy to read. Links, images, videos, and gifs work reliably, which does not always happen in emails. We can update informational pages so they always have the most recent information (unlike emails). We can highlight information that's particularly important to your situation.
Central point of reference. We'll often exchange many emails to get a model onboarded, and many more to book a shoot. That means, all the info about a shoot might be spread across several emails. In Kitten, it's all in one place, and always up to date (Model Liaisons, and Shoot Producers use the "back end" of Kitten to organise shoots).
Spam. Sometimes, our emails to models end up in their spam filters, which causes delays and frustration.
You can update your info as you like. For example, if you want us to pay you to a different bank account, simply log in and update your bank details, and that's what we'll use from then on. If your ID is expired, we'll prompt you to add a new one.
Keep our data up to date. When a shoot is planned, it's essential data we have about you (such as your name, address, and next of kin, bank account info) are up to date, so the shoot day goes smoothly and safely. We'll prompt you to review and if necessary update your info in the weeks before a shoot.
Workflows. Kitten can tie in with our business workflows. That's important for us, because at any one time we work with around 30 models, ten Shoot Producers and a dozen timezones, and that shit is complicated! For example, we can see all the models waiting to have a shoot booked, or who need to send us grooming shots.
What can I do in Kitten?
Things you'll be able to do in Kitten include:
See almost all the data we hold on you

Request data removal in some circumstances (see our Privacy Policy for more info on how that works exactly)

Update your contact info, next-of-kin, bank account, medical info
See info about shoots

Shoots we hope to offer you in the future
Shoots that are currently planned or booked
Shoots that occured in the past, and documents related to them

Request that we contact you
Advise us on what to do in an emergency
Link to your shoots on the abbywinters.com site
Complete and revise your answers to questionnaires for different shoots (so we can plan an awesome shoot that's tailored to you)
Upload images (grooming, ID, test shots)
Submit STI test results
Live-chat with a Model Liaison
It's gonna be great. 🤩
We're a business created to provide a service for our moderately conservative paying customers, and we're wary that some customers will be uncomfortable with transgender models appearing on our site (so much so as to stop paying for our service entirely). We're willing to lose some customers over this – we believe that sex is a many varied and beautiful thing – but we're not going to risk our entire business on it.
While we're primarily seeking models who were assigned female at birth, since 2018 we are trialling including some models who were assigned male at birth but have transitioned to female and also undergone sex reassignment surgery.
Transgender model applicants will be subject to the same requirements we have for models who were assigned female at birth (only around 10% of those get accepted), and so transgender models may not be accepted for reasons regardless of their transgender-ness.
🔞
You have to be at least 18 (we require government-issued photo ID). Our upper age range varies, but it's roughly 30.
Using your legal real name
We generally do not permit models to use their legal real name when appearing on our site.
Perhaps you are comfortable telling everyone about the work you're doing for with us (awesome! 🤩), but having your nude shoot appear when your name is typed into Google by your employer is probably a complication you can live without (and the trouble this has caused in the past is why we no longer allow it).
Selecting a pseudonym
So, we select a pseudonym ("fake name") for models who appear on our site. We have moderately strict brand guidelines for selecting that name (we select names based on your ethnicity and birth year).
Every model must have a unique name on our site – we cannot have exact duplicates. For example:
We could have models named Kaitlin, Kaitlyn, Caitlin, and Caitlyn
We sometimes add "surname initials", for example, Kaitlin R, Kaitlin E
Models are informed of the assigned site-name several weeks before their first booked shoot, and can ask to have it changed at that time (but not later!) – for example, if the selected name felt "weird" or inappropriate connotations (sister's name; bully at school, etc).
What if I already have an established performing name?
Some people have an established name they perform under, and prefer to use that when working with us, to maintain their own brand – fair enough!
Models may be able to use their established name, or more likely, a modified version of it. For example;
"Mistress Kaitlin" is your established performing name, we could use "Kaitlin" (or, if we already had a "Kaitlin", we would add a surname initial, for example, "Kaitlin R")
"Kaitlin Christenson" is your established performing name, we could use "Kaitlin C" on our site (again, assuming we did not already have a "Kaitlin C")
"K8lin" is your established performing name, we might use "Kaitlin E" on our site.
"cumbunny69" is your established performing name, we might use "Penny L" on our site.
If not using your exact established performing name is a "deal breaker" for you (after the possible variations described above), let us know early in the application process, so we can consider it – we may be able to come to a compromise that suits us both.
If we're not able to reach agreement, we should not waste each others' time going further.
Nude modelling is definitely not for everyone. This is why we schedule potential models for an Info Session.
"I read the information to make sure I got all of the information. I needed to understand the information so that I could make a valued and conscious decision."  (Gizela, Sep 2021)
This is absolutely no obligation, and is your chance to meet with us and suss us out – and ask stacks of questions. After you Apply, we'll send you a questionnaire to fill in, then we can book the Info Session.
"Mentally at the beginning, I liked the idea of the shooting, being nude, being naked. But it was just an idea. My friend told me about you, but I didn't realize what I could do and how I would look until I got into the website. It really had an impact to see how it would look! I had to step back and think about the reality of what would be shown.

I took a week to think about it and my friend Valeria [who referred Alaina to work with us] told me all of her good and bad experiences in her whole modeling career… Then I wanted to carry on with your company! Everything was very transparent and there were a lot of reminders, that helped me feel prepared." (Alaina, Apr 2021)
If you decide it's not for you, it's no problem. Here's a nice message we got from a model who works with kids (we always advise people who work with kids not to do nude modeling work – if they are "found out" by their employer, they might lose their job!). Here, we followed up with Bianca* a week after her Info Session, to see how she was thinking about it. Here's her response back to us;
Hi Andrea*,

Yes I had a discussion about it with several friends and have concluded that whilst working with kids it is better to leave the modelling work at this time.

The company has been really great though and I'm so impressed with how well you look after people. If I ever know of anyone interested in this kind of work I would definitely recommend them to you.

Sorry I've been so difficult to contact, working 6 or 7 days a week at the moment and it has been all over the place.

Hope you have a Merry Christmas!!

Kind regards,

Bianca*
* names have been changed.
It's a members-based website which means people need to buy a membership in order to access all the content. Potential members check out the small free section of the site and, if they like it, pay using their credit card to buy a subscription for a specific length of time, or buy individual scenes.
No, you don't.
"For me, this is wonderful. I really like the work! The photos and videos for abbywinters.com are beautiful! I saw the shoot… It is incredible! It was very cute and like my real life. I was like, wow! I want more shoots with abbywinters.com because it is real!" (Rita L, Feb 2022)
For 23 years, we have spent a lot of time engaging our customers to learn about what they like and don't like. From this, we created our "paradigm", a specification for our Shoot Producers on what to capture of models. When we tried giving models the option on images to release, their ideas were at odds with our customers' ideas (which makes sense, they are coming from completely different perspectives), and the results were poor for customers.
We're a business, and by staying in business, we can pay models to work with us (customers have a lot of options these days, many of them free!).
So, it is likely we'll release a few images you'd prefer we did not, but also, the images we release are not that bad. We're not going to show images of you with your eyes half-closed, or a video of you falling over, or stuttering, for example. We're about empowering our models, and part of that means editing out unintentional stuff. But, we might include images where some cellulite on your bum is visible, or your tummy is bunched up a bit when you sit. That's part of who you are, and our customers quite like seeing that (in fact, we're known for showing models as they really are, and that's part of how we're able to stay in business and pay you to appear in shoots!).
Most models quite like the shoots we make of them (once they get over the initial "That's what my voice sounds like?!" thing we all have). 🎙️
All that being said, if there is a specific image/video segment that deeply concerns you, we can discuss it. On the shoot itself, you can always discuss with your Shoot Producer your preferences, but requests like "never show my butt" won't fly. 🙄
btw, before your shoot is released, we'll give you free access to the site forever.
Probably not – at least, not in the next few months.
As your friend, our Shoot Producers are skilled in both Photography and Videography… but they also undertake around 80 hours of brand-specific training before they start making shoots with us. The training is around making shoots that our customers are sure to enjoy (rather than just "a shoot").
It's quite possible your preferred photographer could do this training, of course, but it takes time to pass through our screening process, and typically that 80 hours is spread over a few months. So if you are interested in shooting with us, we'd travel you to one of our Shoot Producers initially. Later, if your friend completes our training, they can shoot you again for us! :)
"I felt really comfortable with Hermann [Shoot Producer]. I've never felt so good with a photographer! It went well and I felt comfortable. If it happened again where I was to shoot with Hermann, I'd be up for that!" (Larisa, Dec 2021).
If you think they'd be interested in working with us, please send them to our Shoot Producer recruitment page.
We have a modest reputation for helping amateur models become porn stars (when that's something they want to do).
For example, Angela White (Angie on our site) and Amarna Miller (Carmina on our site) are two A-level performers that got their start with us. We occasionally make shoots with people who have already reached star status, but we tend to focus on the new up-and-comers more.
So, why work with us if you're new and have big plans?
We've been around for 23 years and are highly respected in the industry.
We are award-winning, and consistently rated as one of the best adult websites in the world
We specialize in first-time experiences for models – gentle and fun
We take things at your speed, so there's time to learn and grow
We explain the shoot before it starts, and encourage you to ask questions (before, during, and after)
We have multiple posing levels you can progress through as you get more comfortable
We honestly share the "cons" about the industry, as well as the "pros"
We take your sexual health seriously and can help to educate you for the future
We'll set high expectations for other Shoot Producers you work with in the future
You can link to a social media account from our site when your shoot is published (more info)
"It was probably the best experience I've had working with anyone in the industry so far. It was honestly great. I was very impressed. I wasn't expecting him [Shoot Producer Brad] to be that nice, professional, and easy to get along with!" (Nicole T, Jul 2021).
Some producers can be lax in some of these aspects, so it pays to be careful. Owner of Model for Abbywinters and abbywinters.com Garion Hall posts regularly on the knowledge-sharing site Quora, and answered the question I want to become a porn model, what should I know? which explores this in more depth.